"Title companies, or any settlement agent who performs a closing - attorneys, escrow agents or title insurance companies - are involved in a multitude of activities involved in a closing. A settlement agent glues together the process of the sale, working with both the buyer and the seller in the transaction. They research the title, making sure there aren't any liens on the property, pay the seller and the old lender, obtain money from the buyer and new lender, obtain recording fees and taxes for the government, and file the paperwork at the local courthouse. In effect they orchestrate the settlement from start to finish.

"The American Land Title Association, founded in 1907, is the national trade association and voice of the abstract* and title insurance industry. ALTA members search, review and insure land titles to protect home buyers and mortgage lenders who invest in real estate. ALTA is headquartered in Washington, DC. "

*an abstracter is the person who prepares a summary (or abstract) of public records relating to title to a specific parcel of land.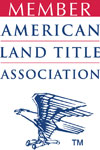 Click to visit Home Closing 101!